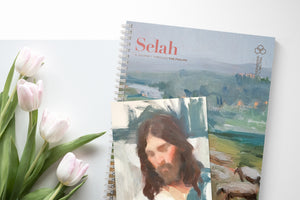 SELAH: A Journey Through the Psalms

A Multiply Goodness x Jen Tolman collaboration
GUIDES WILL BEGIN SHIPPING THE MIDDLE OF FEBRUARY
These are unprecedented, difficult times, and we can't think of a book of Scripture more necessary for this moment and for our souls than the Psalms.
Written as songs and prayers of lament, praise, intercession, and worship, the Psalms are rich with meaning and have brought depth to the hearts of believers for generations. This six-week study will take a closer look at the text of some of these Psalms, each week with a different focus, with the hope that you will feel a companionship with God, a safe place for your weary soul, and a reminder that God is faithful to his people. 
Paired beautifully with the painted artwork of Jen Tolman, this guide feel like water in the desert, a breath of fresh air into the lungs of your faith. We're also offering an exclusive print of the Savior for you to display in your home as a reminder of His love for us during your study. 
We hope and pray that this study of the book of Psalms is a sustaining gift during these uncertain days, and we pray that the Scriptures would come alive and rest in your hearts, providing you with peace, comfort, and companionship.
Our Multiply Goodness Awesome Wonder study runs March 1 - April 9, 2021

Study Guide Specs — 8 x 10 inches | 116 pages | Spiral-Bound | Full Color



Within this study, you will find:

Our 6-week study guide

Daily readings in the Word of God (Old and New Testaments)

Questions to expand your study

Exclusive art from artist Jen Tolman, made especially for Multiply Goodness.
Extra-wide margins and space for note taking

Note pages at the end of every week for expanding your thoughts

A reflection section that will help your study of Scripture have deeper life appliction

A "Story of Faith" — photographed by Kati Ellis at The Faith Collective, you'll read the personal story of a woman, just like you, to encourage and inspire you in your journey to follow Christ. 

Our Small Group Section — now with ideas for virtual gatherings!


All about our Multiply Goodness small groups

How to host a small group study virtually
Information about why small groups are critical to our Scripture study,
Memory Verse Cards for you to cut out and use around your home, as Scripture bookmarks, or any other place that will help you hide the truths of God's Word into your heart. 


—

Join us on Instagram for short, daily devotionals and LIVE weekly small group study broadcasts on Facebook, starting March 1st!