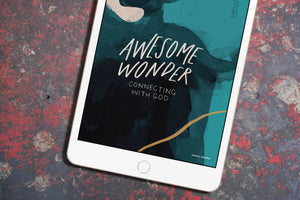 AWESOME WONDER: Connecting with God

A Multiply Goodness x Morgan Harper Nichols collaboration
A loving Heavenly Father uniquely makes us all. We each have our strengths and weaknesses, our gifts and talents, our victories and struggles.
None of us are exactly alike. So why do we treat our relationships with God like we were all cut from the same mold? We are constantly judging our own spiritual formation against the formation of others, rather than walking in our own divinely-made pattern for growth, connection, and discipleship.
Join us as we dive into the Scriptures to study the different ways we can connect with the Lord. Our new study guide, "Awesome Wonder: Connecting with God" will help you discover YOUR unique and best way to connect with God. 
Featuring exclusive work from artist, poet, and songwriter Morgan Harper Nichols, this is a guide you'll love to leave open on your table. Each piece was made specifically for each week. 
Our Multiply Goodness Awesome Wonder study runs March 23 - May 1, 2020

Study Guide Specs — 116 pages | Digital PDF | Full Color



Within this study, you will find:

Our 6-week study guide

Daily readings in the Word of God (Old and New Testaments)

Questions to expand your study

Exclusive art from artist Morgan Harper Nichols, made especially for Multiply Goodness.
Note pages at the end of every week for expanding your thoughts

A reflection section that will help your study of Scripture have deeper life appliction

A "Story of Faith" — photographed by Kati Ellis at The Faith Collective, you'll read the personal story of a woman, just like you, to encourage and inspire you in your journey to follow Christ. 

Our Small Group Section


All about our Multiply Goodness small groups

How to host a small group study in your area

A highlight story from one of our small groups, photographed by Kati Ellis at The Faith Collective

Around the Table — a simple recipe or hosting idea to make your small group vibe as welcoming as possible!

Memory Verse Cards for you to print and cut out and use around your home, as Scripture bookmarks, or any other place that will help you hide the truths of God's Word into your heart. 


—

Join us on Instagram for short, daily devotionals and LIVE weekly small group study broadcasts on Facebook, starting March 23rd!