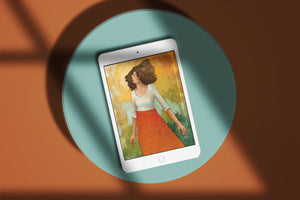 DIGITAL PDF DOWNLOAD — 1 User License
THIS LISTING GIVES YOU A DIGITAL DOWNLOAD OF OUR FULL STUDY FOR YOUR PERSONAL USE. IT IS IDENTICAL TO OUR PHYSICAL STUDY, IT WILL JUST BE A PDF THAT ARRIVES IN YOUR INBOX FOR YOU TO DOWNLOAD.
Study begins September 16th
Have you ever wondered if God really sees, hears, and loves you? Have you ever felt unnoticed, unappreciated, or forgotten? There were women throughout the pages of the Bible who felt the same way and yet, were deeply beloved of God.
We are so thrilled to bring you an in-depth study of Scripture that walks you through the stories of the nameless women of the Bible — from the Widow of Zarapheth to the Woman at the Well, we uncover the unique narratives and God's fingerprints in the lives of six women in the Old and New Testaments. You'll finish the study knowing God more intimately and loving the Scriptures more deeply. We hope you'll join us. 
This study guide also features the brilliant artwork of Caitlin Connelly, who's imagery, color, and emotion bring life and depth to the stories of these women. It's a study guide that you'll want to keep on your coffee table and pass on to your friends.
Our Multiply Goodness Known By God study runs September 16 - October 25, 2019.
Study Guide Specs — 8 x 10 inches | 116 pages | Digital PDF
Within this study, you will find:
Our 6-week study guide
Daily readings in the Word of God (Old and New Testaments)

Questions to expand your study
Extra-wide margins and space for note taking
Note pages at the end of every week for expanding your thoughts
A reflection section that will help your study of Scripture have deeper life appliction
A "Story of Faith" — photographed by Kati Ellis at The Faith Collective, you'll read the personal story of a woman, just like you, to encourage and inspire you in your journey to follow Christ. 
Our Small Group Section
All about our Multiply Goodness small groups

How to host a small group study in your area

A highlight story from one of our small groups, photographed by Kati Ellis at The Faith Collective

Around the Table — a simple recipe or hosting idea to make your small group vibe as welcoming as possible!
Memory Verse Cards for you to cut out and use around your home, as Scripture bookmarks, or any other place that will help you hide the truths of God's Word into your heart. 
—
Join us on Instagram for short, daily devotionals and LIVE weekly small group study broadcasts on Facebook, starting September 16!