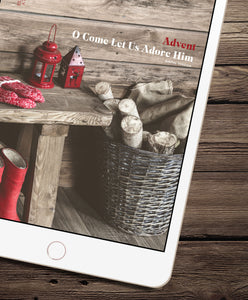 Study begins December 1st
The season of Advent refers to the four weeks leading up to Christmas. It is a time of preparation and anticipation as we await and celebrate the advent of two things: the remembrance of Jesus entering the world as a baby at Christmas, as well as the advent to come, or the Second Coming of Christ.
With this in mind, we designed this Advent Bible study guide to walk you through 25 Names of Christ found in the Old and New Testaments with the hope that it will help us focus on the birth, life, and ministry of Jesus Christ and the joy He brings to each of us. 
Printed in beautiful full color, we intentionally redesigned and reformatted this year's Advent guide to include gorgeous, symbolic images for each name, giving you a unique way to more deeply understand the person of Jesus. We have also updated it to match the dates of the 2019 Advent season. Along with the thoughtfully different study, we also have a brand new Story of Faith that speaks to the faithfulness of God, drawing you closer to the heart of the Savior during the holiday season.
This year, we are also happy to give you our ever-so-popular Advent tags, in the back of each guide. Use these around your home, on your tree, or on gifts for loved ones! Each tag is designed with the name of Christ for the corresponding day. 
It is our hope that as you learn about the themes of Advent and the names of Christ, you will develop a deeper relationship with the Savior during this long-awaited season.



Our Multiply Goodness Advent study runs December 1 - December 25, 2019.

Study Guide Specs —  116 pages | Digital PDF | Full Color
Within this study, you will find:
Our 4-week Advent study guide
Daily readings in the Old and New Testaments

Questions to expand your study
Extra-wide margins and space for note taking
Note pages at the end of every week for expanding your thoughts
A reflection section that will help your study of Scripture have deeper life appliction
A "Story of Faith" — photographed by Kati Ellis at The Faith Collective, you'll read the personal story of a woman, just like you, to encourage and inspire you in your journey to follow Christ. 
Our Small Group Section
All about our Multiply Goodness small groups

How to host a small group study in your area

Around the Table — a simple recipe or hosting idea to make your small group vibe as welcoming as possible!
25 Names of Christ tags for you to cut out and use around your home, as Scripture bookmarks, or any other place that will help you hide the truths of God's Word into your heart. 
—
Join us on Instagram for short, daily devotionals and LIVE weekly small group study broadcasts on Facebook, starting December 1st!