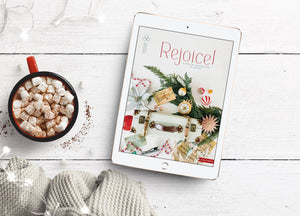 THIS IS A DIGITAL DOWNLOAD VERSION OF OUR FULL STUDY GUIDE. 
For the printed & bound version, click here!
So much of what makes the holiday season magical is the music that accompanies the memories and traditions in our homes, our churches, and in our own spiritual lives. It's an instant, audible reminder that Advent, our season of waiting for the arrival of the birth of Christ, is finally here.
What if you spent some time with these hymns and tunes during the Advent season, like you do every year, but also opened your Scriptures and pondered the truths that rest in those words?
What if the songs could bring you even more hope, more promise, and more peace this holiday season?
We're so excited to have you join us for Advent, the historical four weeks leading up to Christmas. This guide will provide you with quiet, meaningful contemplation, deeper joy, and the presence of the Lord in your everyday life as you work through a song a day for the four-week Advent season.
We know you're busy during the holidays. When we created the guide, we took it into consideration and gave you one song, one small passage of Scripture, and one reflection question for each day. Just enough to fill you spiritually without the overwhelm during an already-full season.
In the guide, you'll also find a QR code that links to an exclusive Advent playlist, curated by the Multiply Goodness team! We found our favorite versions of each song in the guide and put the list together for your enjoyment.
Grab your guide and celebrate the Christmas season with us! We can't wait.
Our Multiply Goodness Advent study runs November 29 - December 25, 2020.

Study Guide Specs — 8 x 10 inches | 127 pages  | Full Color | Digital PDF Download
Within this study, you will find:
Our 4-week Advent study guide
Daily readings in the Old and New Testaments

Questions to expand your study
Space for note taking
Note pages at the end of the study for expanding your thoughts
A "Story of Faith" — photographed by Kati Ellis at The Faith Collective, you'll read the personal story of a woman, just like you, to encourage and inspire you in your journey to follow Christ. 
Our Small Group Section
All about our Multiply Goodness small groups

How to host a small group study in your area

Around the Table — a simple recipe or hosting idea to make your small group vibe as welcoming as possible!
27 tags for you to cut out and use around your home, as Scripture bookmarks, or any other place that will help you hide the truths of God's Word into your heart. 
Join us on Instagram for short, daily devotionals and LIVE weekly small group study broadcasts on Facebook, starting November 29th!